Stuff The Bus Art Contest – DEADLINE EXTENDED TO APRIL 24, 2020!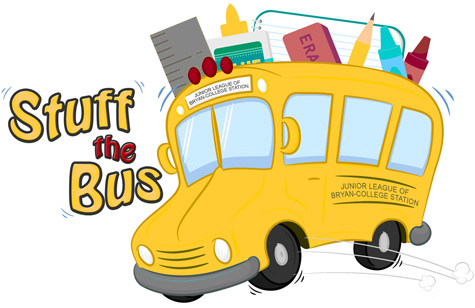 The Junior League of Bryan-College Station, Inc. (JLBCS) is pleased to announce that we are now accepting submissions for our annual art competition!
***SUBMISSION DEADLINE EXTENDED TO APRIL 24, 2020***
***OPEN TO GRADES KINDERGARTEN THROUGH 6TH GRADE***
Each and every Bryan and College Station elementary and intermediate school is encouraged to have their students submit artwork for the JLBCS signature project, Stuff the Bus! We love the opportunity to get your students involved in our project by encouraging each student to submit artwork that will be used for our annual Stuff the Bus t-shirt. The shirt is used to promote Stuff the Bus which helps our League provide school supplies to more than 16,000 local students in our communities.
Submission Guidelines (revised to accommodate school closings):
The artwork may include such school themes as: school supplies, school buses, students using school supplies, etc. Student creativity is encouraged!
Please ask students to not include a specific school or school district name, as our League provides school supplies to multiple schools and school districts.
The students should use plain white 8.5×11 paper as their canvas.
A photo of the artwork submission must be submitted by parents via email to stuffthebus@gmail.com for final review by JLBCS by April 24, 2020.
Finalists (top 10) will be contacted to submit the original artwork via traditional mail.
JLBCS will narrow the submissions to the top four and post them on Facebook to be voted on during the month of April. The overall winner will be announced on our Facebook page by May 8!
The submissions must be accompanied by a release form, signed by the students' parent or guardian (see attached). If you have any questions or concerns, please email Hayley Harrison at stuffthebus@jlbcs.org. We look forward to seeing your students' creativity!
Sincerely,
Hayley Harrison
2020-2021 JLBCS Stuff the Bus Chair